Experts: The international community does not really understand the war in Yemen- (Video)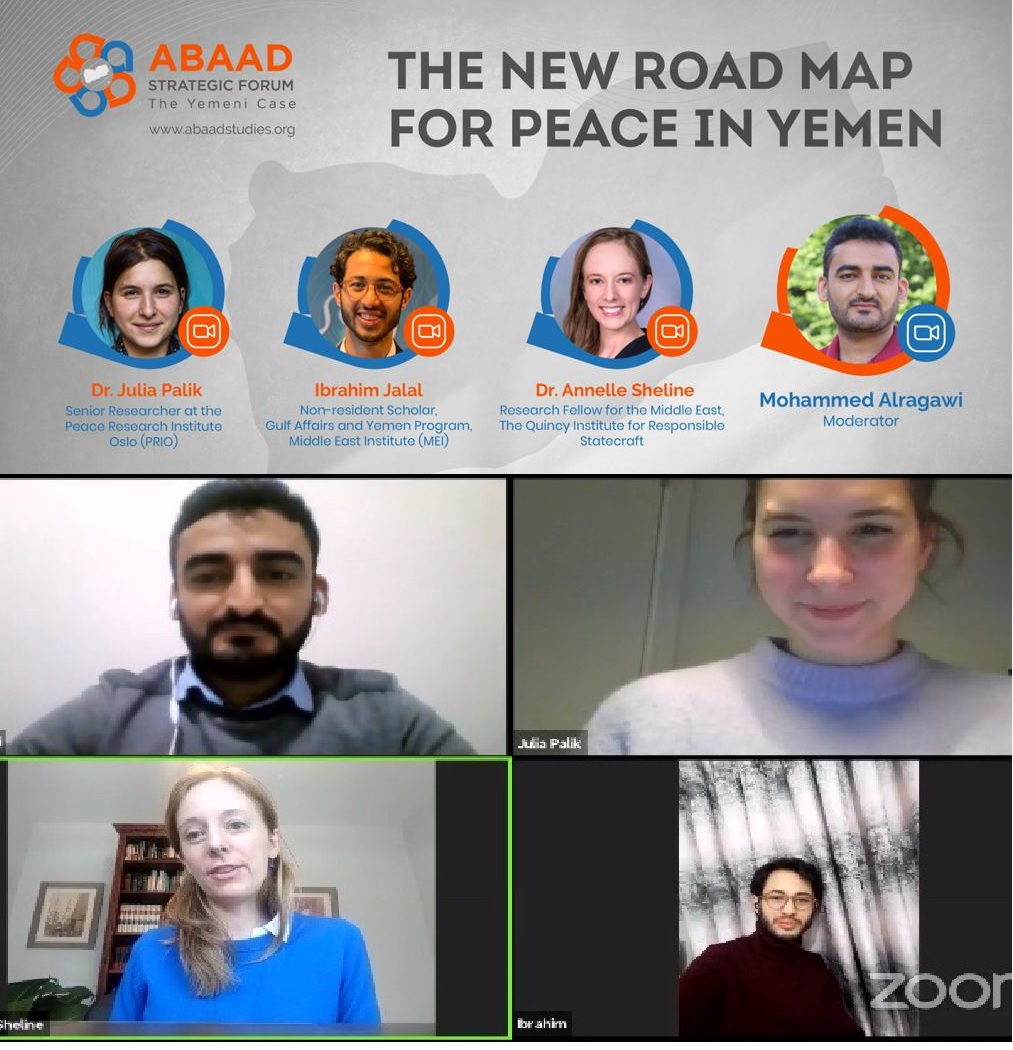 International experts agreed during a webinar organized by Abaad Strategic Forum for the Yemeni Case that the international community does not have the right and accurate understanding of the Yemen crisis.
Julia Palik, a senior researcher at the Peace Research Institute Oslo (PRIO), said, "The international community understands what is happening in Yemen. They do not necessarily want to understand it or they want to spend much time in understanding it".
"This does not mean the international community is against peace, but this would make a superficial understanding of peace that follows a template approach connected to the bureaucratic working with such a system in the UN, which is not suitable for a conflict like Yemen where things are happening rapidly. Yet, the UN is lacking actions condemning a group on twitter or putting out a statement is symbolic but will not bring peace to this country," she added.
Similarly, Ibrahim Jalal, a Non-Resident Scholar in the Gulf Affairs and Yemen Program at the Middle East Institute (MEI), believes there is a "continuously changing international landscape that projects Yemen from a humanitarian crisis. However, not considering that this humanitarian crisis is a by-product of the political and security crisis that has been happening since the two the coup d'état back in September 2014.
"The characterization of the conflict is not largely capturing the essence right now for many Yemenis inside and outside Yemen," he noted.
Annelle Sheline, Research Fellow for the Middle East, The Quincy Institute for Responsible Statecraft, also agreed, "Many people do not understand the real situation in Yemen. Obviously, because there have been a media blackout by Houthis in Sana'a and other areas they control.
For instance, one of the main unclear thoughts to the international community is that "the notion of Hashemite supremacy is incompatible with the future of Yemen as inclusive and democratic, she added.
"One fundamental issue which the international community can be really helpful is engaging with phenomenal Yemeni institutions and researchers to help them understand what is really happening in Yemen," Palik recommended.
American vision for peace
Sheline believes that Biden's team mainly wants to "end U.S complicity in the war without taking responsibility for supporting a just resolution of the conflict, or they may try to rush through a quick a ceasefire agreement that leaves the Houthis in charge of the North and the Southern Transitional Council (STC) in control of the South."
"The Biden administration appointed Tim Lenderking who has been in the region, meeting relevant counterparts. This is a good step. But Biden should pressure Saudi Arabia and the UAE to fully withdraw militarily as well as ending their own going support for belligerent factions. He should be very clear that Saudis and UAE can either continue to interfere in Yemen or they maintain a relationship with the US, but they cannot have both," she added.
Describing the visions of the UN as well as Washington on the international recognized government of Hadi as interconnected but often quite competing, Palik thinks, "It is great that the Americans took a markedly different rhetorical and symbolic approach which is quite important but it is not going to bring peace to Yemen. The US can influence the Saudis willingness and capacities to get involved and stay involved in."
Jalal thinks that the humanitarian crisis in Yemen is a "major concern for the new American administration. The new administration has made so many fast-paced steps. It appointed a special envoy who is familiar with the region and has good connections with regional actors, but the designation of Houthis as FTO was cancelled."
"The US is reducing its direct involvement with the Saudis when it comes to liaison coordination, intelligence support etc. No one has a vision for sustainable peace in Yemen. All the imagination focuses on ceasefire and a ceasefire cannot be implemented," he added.
Martin Griffiths' initiative for peace
During the seminar, panelists and other participants agreed that the UN special envoy of Yemen Martin Griffiths has not made any major success during his three years of work in Yemen.
Palik noted, "The UN has lost leverage in Yemen. There has not been much progress on the Stockholm agreement and despite the special envoy's work on making parties sign this joint declaration. Not much really has happened to be fair."
"A serious consideration might be needed for the UN Security Council resolution 2216. This is still the basis of the UN special envoy's work. Although there are frustrations as the special envoy's maneuver is also limited by certain decisions and one of them is the UN SCR which is of today does not reflect political realities on the ground," she added.
While expressing her frustration of the lack of progress, Sheline still thinks that Martin Griffiths "made a good and commendable statement when he condemned the Houthis violence against Marib and asked the Government and Saudis to allow fuel to enter the port of Hodeida."
"In any negotiation the parties need to clearly see the end state. It is important to reiterate that the end state should be guided by the aspirations of Yemenis. A future marked by peaceful political participation, accountable governance, equal citizenship and economic justice. Yemenis have to decide their own future," she emphasized.
Sheline is also wondering "Why the Houthis would necessarily make any sort of moves towards that sort of shared vision of a peaceful Yemen that reflects accountable governance which the vast majority of Yemenis want to see for their country. It is just unclear how Griffith is going to be able to pressure them to get them to stop their assault in Marib."
The Saudi vision
Jalal affirms that the "Saudis do not want to have a hostile Iranian- backed regime in Sana'a as they perceive the Houthi movement as a threat targeting strategic depths and civilian infrastructure inside Saudi Arabia by firing ballistic missiles and drones very occasionally."
The Saudi role in Yemen is ambiguous; "they want to have a face-saving exit and that could be in any way, but far away from having a sustainable peace in Yemen. No one outside Yemen has a vision or sustainable peace in Yemen. The Saudis should have interests in the security of its borders, security of its people as well as the Gulf region, and shipping lines across the red sea and the Gulf of Aden," he indicated.
Palik argues, "If Saudi, tomorrow, are stopping all military attacks, this war is not going to end, because it did not start because of the Saudis. It started a long time ago. Getting Saudis out of Yemen is impossible because their histories are so interconnected and also the enormous amount of remittances which are very much important factors of Yemen's economy. This is not going to disappear."
"The Saudis- Houthis back channels talks which have been on for quite a while, is the most fruitful for the future," she added.
Consistently, Sheline pointed that the "Saudi's policy towards Yemen has always been too weak. MBS miscalculated the military intervention which has exacerbated all conditions. The Saudis were afraid of the Iranians' support for the Houthis and their ability to threaten its territory."
"Saudis have not provided sufficient support for the Hadi's forces to enable them to win against the Houthis, even if the Hadi government has been implicated in smuggling goods to the Houthis. So the incentives are completely misaligned to try to move towards peace which is why Biden must pressure Saudi Arabia to fully withdraw as well as lift the blockade. This may initially empower Houthis which many fear," she suggested.
New road map for peace
The new advancements in Marib made it clear that Houthis currently have no willingness or motivations neither to stop their military campaign nor to engage in a power-sharing deal.
Palik believes, "Houthis military power has significantly increased since 2014 mostly due to looting from the government stockpiles and smuggling activities. The Houthis are not going to get disarmed because they have never been as strong as they are now in terms of military power and controlling territory."
Jalal agrees with Palik that Houthis do not have an incentive to engage in the peace process mainly because they are emboldened by the balance of power at the local level.
"The Houthi's peace vision, which was published in 2020, is actually a larger extent of the joint declaration. Many of the ideas presented were kind of absorbed and reflected in the joint declaration. This marks a continuation of normalizing the status quo on the ground. Resolution no: 2216 is still there, but it had a lacking implementation mechanism," he pointed.
Sheline considers it "very tricky to resolve the current situation given the apparent Houthi's strength. However, Martin Griffith also laid out a few suggestions for this. Essentially, there are ways to try to coax the Houthis to the negotiating table. For example, things like ensuring unhindered flow of fuel and other commodities into Yemen through Hodeida ports. Releasing servant salaries based on the 2014 payroll, opening Sana'a Airport to commercial international traffic. These sorts of measures will allow north Yemen to breathe a little bit."
"It is clear that bringing all the local actors to the negotiating table will take a long time. All the regional and local actors should be on the hook to help pay for the reconstruction of Yemen. We hope that Yemen in the future will have a federal system," she added.
Houthis designation as FTO
As for the nuclear agreement with Iran and its impact on the war in Yemen, Sheline believes that Biden's calculus may end up holding Yemen hostage to these negotiations with Iran whether it's returning to nuclear deal as well as subsequent negotiations between Iran and Members of GCC over concerns about non- nuclear weapons, conventional weapons and missiles etc.
"Biden would pressure Iran to withdraw support for Houthis. But this will take time. The Houthis will maintain their belligerence even if Iran withdraws support. In this notion, Iran is a crucial actor that will rein the Houthis, but is not going to be effective. Instead, Biden has to find ways of pressuring the Houthis directly and this is part of why it was important for the foreign terrorist organization designation (FTO) to be lifted because otherwise, the U.S cannot legally interact with the Houthis," she added.
"Yes, there are many that detest the Houthis and do not want to see them granted further legitimacy by the US formally negotiating with them. But this is the unfortunate reality that I think is necessary for trying to achieve an outcome in Yemen," she concluded.