In Abaad's strategic forum.. Experts discuss the new road map in Yemen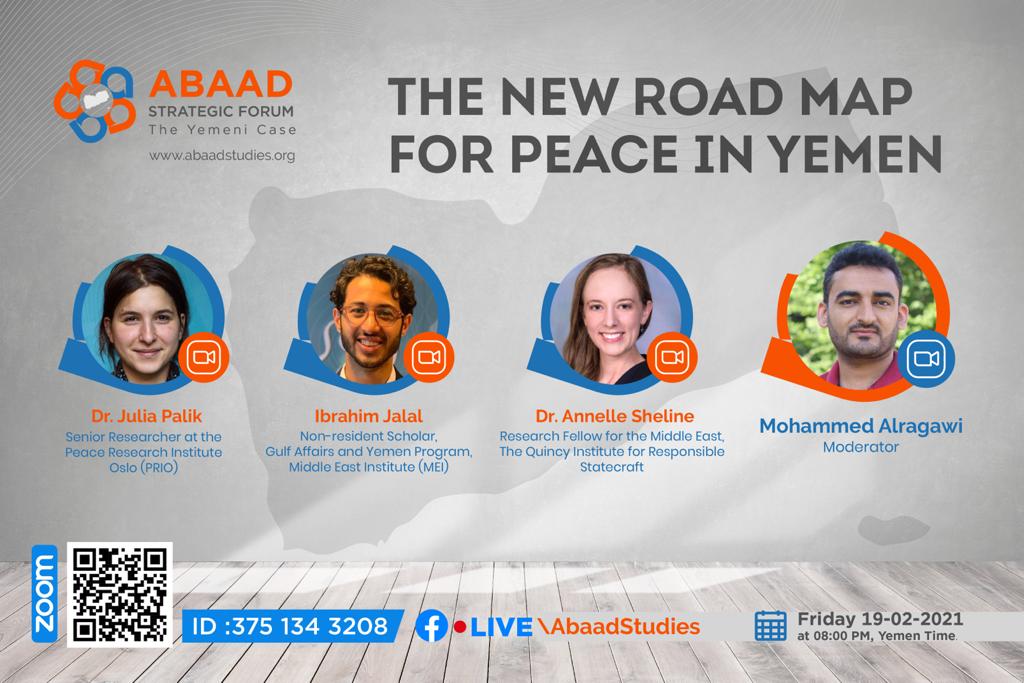 Abaad Strategic Forum for the Yemeni case holds a virtual seminar to discuss "The New Road Map for Peace in Yemen". The forum, which will hold its third seminar at 8:00 (Yemen time) PM on Friday, February 19, will host a group of experts specialized in Yemen to discuss the American vision for peace, the initiative of the UN Secretary-General's envoy Martin Griffiths for peace, the nuclear agreement with Iran and its impact on the war in Yemen, the Saudi vision as well as the Yemeni government options in dealing with the Houthi rebellion.

The seminar, which will be in English, will be attended by: Annelle Sheline, Research Fellow for the Middle East,The Quincy Institute for Responsible Statecraft, Ibrahim Jalal, a Non-Resident Scholar in the Gulf Affairs and Yemen Program at the Middle East Institute (MEI) and Julia Palik, a senior researcher at the Peace Research Institute Oslo (PRIO).

It is noteworthy that the United States removed the Houthi group from the lists of terrorism designation for reasons related to the humanitarian crisis afflicting Yemen, according to statements of the US State Department.